Pablo Picasso's massive public sculpture in Chicago created an endless guessing game. What, if anything, is it supposed to be? When I researched a 2007 Time Out Chicago story about the sculpture, one of the most illuminating things I found was this 1967 interview Picasso gave to Look magazine.
Picasso seemed to agree when his wife, Jacqueline, told Look, "Can't they see it's a woman's head?" Picasso smiled and remarked, "Imagine how funny it would have been if instead of a classical Cubist sculpture, I had modeled something a little bit naughty."
My photocopy of the story is above. That first column of type on the first page is a little hard to read, since I copied this from a bound volume at the library. (This story is still under copyright to Look; I post it here under fair use.)
The topic is timely now because the Art Institute of Chicago is opening "Picasso and Chicago," an exhibit exploring the artist's relationship with the city. Mark Caro wrote about Picasso's history with Chicago in the Tribune, and Lauren Weinberg compiled an interesting chronology in Time Out Chicago. Alison Cuddy of WBEZ previews the exhibit here.
Here's my cellphone picture of Picasso's maquette for the sculpture, which is the first thing you'll see when you walk into the new exhibit.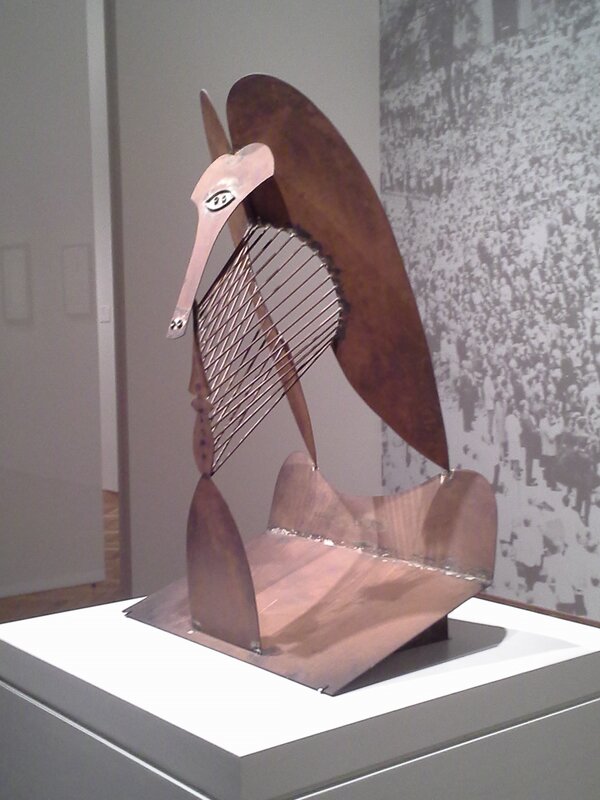 The grave of Charles Dickens's no-good brother Augustus at Graceland cemetery, Chicago. Also in the plot are Augustus's wife (who died of a morphine overdose one Christmas) and triplets who died in infancy.  Some say Dickens didn't come to Chicago on his US Tour in '68 specifically to avoid seeing Augustus, but he was actually already dead by then; the real truth is Dickens wasn't nearly healthy enough to make a trip this far West. See the Chicago Unbelievable story.
Charles Dickens' Chicago brother.
Lineup at the Kinetic Playground, Clark and Lawrence, 1969, Chicago.
(Source: calumet412)
The Chicago Teachers Union emerged as a result of the hardships public schoolteachers endured during the Great Depression. Above: Teachers demonstrate in downtown Chicago, c. 1935.

Want a copy of this photo?  
> Visit our Rights and Reproductions Department and give them this number: ICHi-20855
Front pages from U.S. newspapers from July 21, 1969, the day after the first moon landing.
R.I.P. Neil Armstrong. Here's how the Chicago Tribune and Chicago Defender covered the July 20, 1969, moon landing on their front pages.
R.I.P. Bill Doss. The singer for the Olivia Tremor Control and member of the Elephant 6 psychedelic collective has died at the age of 43. No news yet on the circumstances, but the news comes as a shock just a few weeks after Doss and the Olivia Tremor Control performed at the Pitchfork Music Festival. Here's a photo I took of Doss in March 2011, when he played during the Elephant 6 Holiday Surprise Tour show at Lincoln Hall in Chicago.
According to the Straight Dope column, this "Katzenjammer Kids" comic strip by Rudolph Dirks from August 2, 1903, is the earliest known use of "zzz" to represent snoring. The column did not include a picture of the comic strip, however, so I tracked this down via Newspaper Archive. This is the comic strip as it appeared in the Atlanta Constitution on that date — the full strip and a closeup of a panel showing the Captain emitting some Z's.